You have your dream Pinterest board with all the designer looks for your home.  From designer decorations, to fancy wallpaper and everything in between, if you won the lottery tomorrow, you know exactly how you'd decorate your fantasy home.  You can make those dreams a reality with a little creativity, imagination and some good DIY.  Here are a few ways to make your wishes come true.
DIY Décor
If you have a favorite designer that has a signature look, you can try to replicate it or purchase something very similar that has the same feel of the original.  You'll achieve the same look for way less.  You can buy a piece of furniture and add some DIY painting accents or fancy hardware to make it look designer.  Think about what you love about that particular designer and then look for ways to copy and replicate that idea.
Customize It
Take a piece of serviceable blank furniture and paint some fun stripes or polka dots and now you have something customized that will have your guests talking.  Furniture can be a blank canvas for your creativity to shine.  Paint gold legs on a table, use washi tape for unique patterns and so much more.  Learning how to do these decorating techniques will open up a world of possibilities for your home.  Look up some fun ways to customize your furniture and spaces and the possibilities are endless.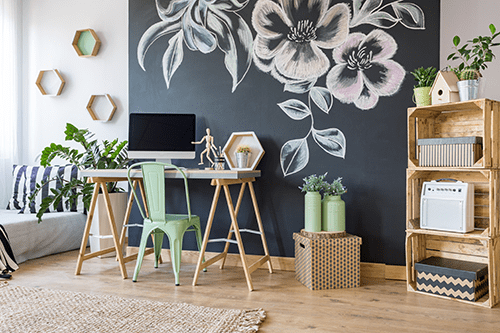 Look for Imitations
For every popular trend, there are hundreds of imitations that look identical and will be much more inexpensive.  Once you have an idea of what you are going for in your space, use the power of the internet to find similar pieces or looks for less.  As long as you achieve the same ideas and concepts, who cares who makes the physical pieces.  They might even be made in the same factory, just with a designer name attached with the extra price tag.
Make it Yours
There are lots of companies giving customers the option and freedom of temporary decorating.  Feel free to experiment without the commitment or stress.  A great example of this is peel and stick wallpaper.  You can try this trend out without feeling like you are taking a huge leap of faith.  There are also great companies making textured walls and floors with easy modular installation anyone can do.  Create truly custom spaces all on your own schedule and budget.  The only limit is your imagination for what you can do on your own with the right tools.