Is your house feeling a little drab and in need of a pick me up? Or maybe it's a little dated and you are thinking about replacing countertops or furniture. A fresh new coat of paint could be just what you need to freshen up your living space without breaking the bank or starting a full-blown remodel. Whether it's adding some dimension to a room with an accent wall or totally changing your homes color scheme, we have tips straight from the pros on how to perfect your paint job.
Removing wallpaper
Wallpaper is an easy way to spruce up a space; but depending on how busy the pattern is, you could outgrow it as you change your homes décor or personal style over time. Removing wallpaper can be a nightmare if you just start clawing at it. There are special wallpaper remover sprays out on the market that work wonders, but depending on what kind of adhesive was used, it may not be best for the job. One of the trade secrets we've found is to mix equal parts hot water with fabric softener and apply it on the wallpaper with a spray bottle or paint roller. Let it sit for about 20 minutes, then use a metal scraping tool to remove. Try out whatever method you like on a small portion of the wall first. If it works, go for it! If it doesn't, try a different method before attempting to tackle the entire area.
Edging out a room
Edging out a room is probably the hardest part of painting, and there are so many different ways to do it. There are fancy tools you can buy or caulking to put in the corners, but sometimes a more "old school" approach works best. Good old tape and a paint brush! The simplest and most effective way to edge out a room is to tape it off first, then apply whatever color paint your ceiling is. Typically, it's some shade of white. Let that dry, then paint the color you're painting the whole room with over the white. This makes it so you have a nice clean line once you remove the tape. Sometimes the paint can bleed through the tape, so by painting the edges white first it will give you some wiggle room if you have a little taping mishap. And it will save you time when it comes to final touch ups.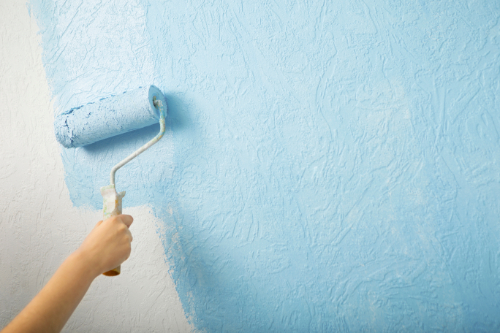 Shake up old paint
Life happens, which means paint touch ups are going to have to be done eventually. Once you find that old can of paint that's been sitting in the garage for who knows how long, its not uncommon for it not to match perfectly. Even if it's the exact color or can of paint you used to paint the room. The reason it doesn't match is because over time, the paint separates and settles. An insider trick is to take the can to your local hardware store and have them shake it in their mixing machine. This will mix all the components of the paint back together without you having to repurchase the same color of paint twice.