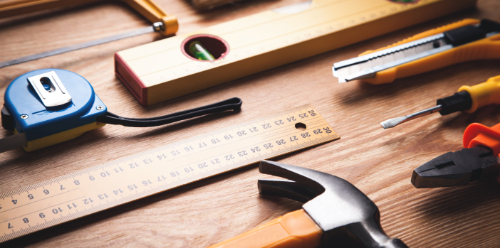 Owning your own home means you're about to venture into a world of projects. Big or small, you're going to need some tools in order to complete tasks around your house. Here are a few entry level tools every homeowner should have.
Hammer
It should come as no surprise to you that you're going to need a hammer. Use it to open a paint can, hang pictures or anything else you can think of. This tool is both versatile and necessary!
Level
A level is a must have to make sure you're hanging things straight. Whether it's a picture frame or an accent wall, you're going to need this tool to make sure your vision comes to life. Consider getting two different sizes of levels. A smaller one for smaller jobs, and a larger, 4 ft. one that can help you with larger projects like hanging shelves.
Pliers 
Sometimes brute strength isn't enough to get the job done. Especially when you need to unscrew or tighten something up. Pliers will definitely come in handy for a number of jobs like replacing a sink or cleaning out drain pipes. Pliers are essential for helping you get stubborn nails out of the wall. This tool is definitely a must have!
Cordless Drill
Work smarter not harder when doing projects. You can accomplish this by making sure you have a cordless drill on hand. Even if it costs a bit extra, get one with a full set of drill bits so this tool can be as versatile as possible.
Tape Measurer 
Even if all you want to do is hang pictures, a tape measurer is an essential part of that. You'll need to measure your walls to find the center. You'll also need it for various other things. For example, say you found a stunning piece of furniture on Facebook marketplace but aren't sure whether it'll fit in your space, your tape measurer will save your bacon! At least one of this tool is vital for every homeowner.
Magnetic Stud Finder
A stud finder is essential for any homeowner. According to Laura Daily from washingtonpost.com, "A stud is the wood frame holding up your wall. When you go to hang a heavy item, you want to be sure you are nailing or drilling into wood and not just drywall, so it doesn't fall. Electronic stud finders tend to give false readings, especially on textured walls, Jackson says. Instead, use a magnetic one (about $10), which you can move over the wall. Stud finders should stick to the screws or nails in the wood framing."
If you're feeling overwhelmed by the number of tools you should have on hand, take a deep breath. You can slowly accumulate them over time as you work on new projects around your house. Rome wasn't built in a day and neither was your home. Take your time. Make it a fun and enjoyable process as you create a space you love.