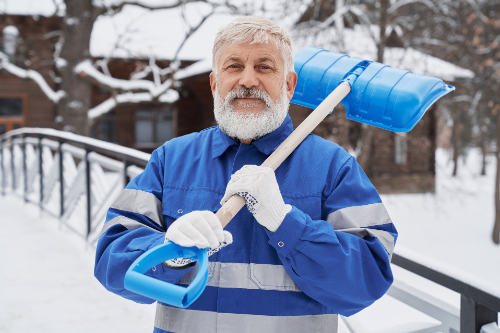 The winter season comes with its own unique challenges. Each one presents its own unique needs. Here are some must have home items you should consider purchasing for winter.
Snow Blower/ Shovel
If you have a lot of snowy walkways that need clearing, it's worth investing in a snow blower. This will make snow maintenance a lot more manageable. Do yourself a favor and gift one to yourself. If you're unable to afford something like that, get yourself a nice wide shovel to help you cover as much ground as possible. No matter what you end up purchasing, make sure it makes your life easier!
Snow Boots
While you're outside dealing with all the snow around your home, the last thing you want to deal with is wet shoes and/or socks. Get yourself some snow boots. You might think it's a waste of money because you won't wear them enough to get your money's worth, but you absolutely will. Anytime you have to step outside in the snow, you'll be glad you have them! Bite the bullet and outfit yourself and your family with some snow boots or at least waterproof boots this winter.
Flashlight
If the power goes out during a snowstorm, it's vital that you have alternative light sources. You can purchase something like a headlamp or something that will provide a little more light like a battery powered lantern. Make sure you have the correct batteries to power whatever light source you choose. This will ensure you're able to use your emergency light sources.
Heater
A heater is another winter must have you absolutely need for your home. If you don't have a wood burning fireplace or stove in your house, you will want a heat source in the event of a power outage. It's also a good idea to have a heater on hand in case your HVAC system goes out during winter. Make sure it doesn't have to be plugged in anywhere in order to be used. Additionally, find one or more than can heat multiple rooms in your home at once. Especially if you have children, you want their bedrooms to stay warm while they're sleeping. Do some thorough research in order to find a space heater(s) that fits your needs.
Portable Charger
If you experience a power outage in the event of inclement weather, you'll need a way to charge your phone. A portable charger is a great investment. They're compact, easy to use and pretty affordable too.
Fire Starter
The last thing you want to do when it's cold both outside and inside your home is mess around trying to start a fire. It's a hassle and it can take a while to get a good flame going. It's helpful to have fire starters around to streamline this process. If you ever need them, you'll definitely be glad you have them!
Make sure you stock up on these winter must haves.