Building equity can be accomplished in many different ways. Projects large and small will make a huge difference on your bottom line if you ever decide to sell your home. If you're not sure where to start, check out these five improvements you can make to start building significant equity today.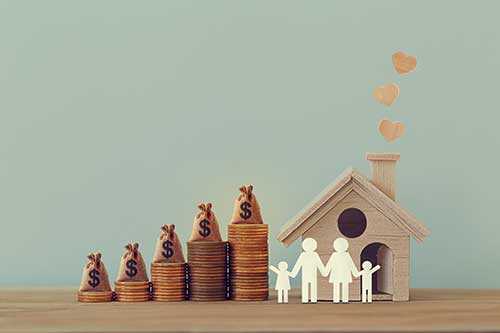 Curb Appeal
Curb appeal is one of the most important features of your property. Landscaping is the very first thing people see when looking at your home. Because it's the first impression, it needs to make a (positive) statement! While this can be a big project, it can definitely be done in a cost effective way. Seeding your lawn, and inexpensive perennials are the perfect way to ensure your lawn will look beautiful year after year.
Update Light Fixtures
Something as simple as switching out your outdated, builder grade lighting can make a huge difference. An article written for berkshirehathawayshs.com elaborates by saying, "Another one of the simplest DIY home updates you can do is to update all of the light fixtures in your home. Opting for modern chandeliers for dining rooms, pendant lights in the kitchen and new updated hallway light fixtures can brighten and modernize your home in a cohesive way. Most light fixtures can easily be swapped out by following the instructions provided in the new light fixture and connecting the existing wires. New light fixtures are the focal point of each room, and can be the perfect finishing touch for a homebuyer."
Bathroom Reno
A nice, refreshed bathroom is also a great way to see a return on your investment. You will build a tremendous amount of equity taking on this project. Everyone uses the bathroom, so making it a nice place to be is a luxury buyers are willing to pay for.
Decking
Homes with indoor/outdoor living spaces are something buyers are always searching for. A deck is the perfect place to do that. Purchase an outdoor dining table and grill to transform your deck into an extension of your kitchen. A deck will make your home feel bigger because it adds more usable square footage to your property.
New Exterior Doors
Doors are an easy and fairly inexpensive way to build equity as well. The above mentioned article also states, "Exterior doors can not only tie together the look of your home, but also help immensely with your home's efficiency. Updating the major exterior doors is a DIY home project that you can do on your own by taking proper measurements and purchasing a new door that fits in the same space. Opting for a modern door with a bright paint color can enhance your curb appeal making your home more desirable for homebuyers."
Adding equity to your home can be an exciting challenge. Research your area to find out what local buyers are looking for. Base your projects on those results and watch the value of your home increase.