Working with an unlimited budget is the dream when upgrading and improving your home.  That unfortunately isn't the reality for so many of us, but this doesn't mean that you are stuck in a cardboard box with no options.  There are plenty of ways to give your home a little refresh without shelling out your savings.  Try a few of these and see where they take you.
Refresh Your Kitchen Cabinets
A focal part of your home is the kitchen.  Your cabinets are a huge part of what your kitchen looks like.  Don't stay stuck in the 1970's with outdated wood doors and drawers.  Get creative with painting them a fun color or staining them to give them new life.  There are lots of YouTube videos and tutorials on how to go about painting your cabinets – it's a pretty manageable project to take on that is easy without feeling overwhelmed.
Replace Old Outdated Hardware
Take an older dresser and find some funky unique knobs and pulls and voila!  You'll save money without having to purchase a whole new piece of furniture.  It really is surprising how new hardware can give something a fresh perspective.  Update your kitchen and bathroom knobs too – it will be a small inexpensive change that will lead to big results.
Lighting
The lights in your house can give it a cozy, homey feel.  Replace older lightbulb with LED bulbs for a change.  Not only are they more cost effective in the long run, they use less energy and last way longer than traditional bulbs.  There are many options for color warmth and tones to achieve your perfect setting.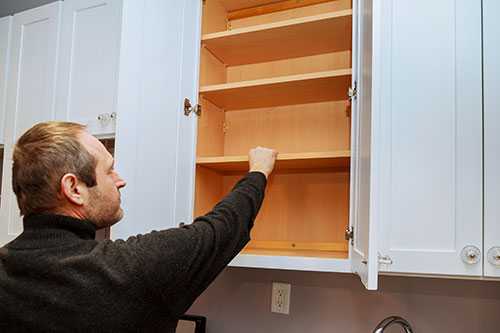 Welcome Home!
Paint your front door a fun statement color.  One sure fire way to be welcomed home every day is to be greeted with a happy color that waves as you approach your house.  It's also a great way for visitors to pick out your house from all the other ones.  This pop of color will be an automatic update to the exterior of your home without all the expense of painting the whole house.
Bathroom Update
An easy, inexpensive way to refresh your bathroom is changing the sink faucets or shower hardware.  You can change the whole look of your bathroom with a different metal or finish that will sparkle.  Replace that standard builder grade faucet with something that makes you smile when you wash your hands.  The same for your shower, invest in an upgraded shower head and you'll be singing (even off-key) every time you use it.
Upgrading your home doesn't have to be a huge undertaking with the expensive price tag that comes with it.  There are plenty of budget-friendly ways to achieve major results.  You'll not only be happy with your renovations, but feel accomplished taking on the home projects yourself.