You've made up your mind with your vision in your head, saved up funds (or figured out where to get the funds), and now you're faced with the decision of hiring your contractor to make your dream home a reality. From traits to look for when you're hiring, qualifications to notice and red flags to watch out for, there are quite a few factors you'll need to consider before you choose who to bring your dream home to life.
Talk More, Think More
Make use of your community and their past experiences; ask your friends, family, co-workers, etc. if they have any recommendations or references. Now, before you take their word as gold, though, keep in mind that each job is different and maybe someone who's good with flooring isn't always the best contractor for a complete renovation of your bathroom.
Also with your referral, ask whoever is referring them for specifics. Have questions prepared such as what precisely were they satisfied with? Was there anything your family or friend wished the contractor did differently? Getting whoever is giving the referral a chance to talk about their experience with the contractor gives you more of a feel for how the contractor works and if they'll be a good fit for your project. Lisa Gordon from Realtor.com offers an even more extensive list of follow-up questions in this article.
When it gets to actually interviewing and talking to your contractor, try to find a contractor that's easy to communicate with. This might seem like common sense, but if you want the final product of your home or home improvement project to turn out as close to your vision as possible, you need to find someone who understands what you're looking for. Part of that mutual understanding is ease of communication. Establish how you prefer to be contacted (phone? Email? Text?) and check to see if your contractor is adept at communicating via your preferred method.
Research and Interview at Least Three Contractors
In the case it feels like you've hit the contractor jackpot and found your perfect contractor match on the first interview, don't hire right away. Interview at least two more contractors to give yourself a chance to compare contractors. As Teresa Mears from U.S. News explains in this article, with each new interview, you also learn something new about your project. Even if you end up going with the first contractor you interviewed, at least you'll end up with a better scope of what to expect with your home project. Considering the level of commitment building a home/home improvement projects take, interviewing more contractors seems worth the time.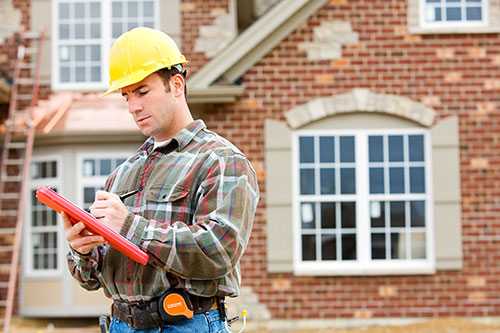 What are the Types of Certifications?
Before you hire your contractor, also check what certifications they have. Seeing what trade organizations or trainings they have can give you a better sense of their training and/or ethics. Matt Blank from MBC Building & Remodeling runs through some common certifications in this article on Angie's List. These common certifications include certified graduate remodeler (CGR), Building Industry Association membership (BIA) and the National Association of Home Builders membership (NAHB). Kim Lindros also include more types of certifications in this article on Business.com.
Another factor to consider is their legal protections. What you'll want to look for is a contractor that's licensed, registered, and bonded. A contractor's license ensures they have a trade license which can only be obtained after passing competency tests that cover business and technical aspects. Being registered indicates your contractor has proven he or she is insured, and being bonded means you can seek reimbursement from a third party in the case the contractor does unsatisfactory work that results in financial harm. This article on Angie's List goes more in-depth on each of these terms and their importance.
Taking on any project, whether it's to completely build a new home or renovate just a room, is a big decision. You want to make sure you have the right tools and resources for it, including who your contractor is. You know a few things to look for from recommendations to licensing, but there's also red flags to flag down. In the first article linked (from Lisa Gordon on realtor.com), it also lists eight red flags to keep an eye out for, including unresponsiveness and asking for too much money upfront (anything more than 15 percent is too much). With these starting points on what to look for when looking for a contractor, we hope you're one step closer to making your dream home your real home.