We're all familiar with the typical kitchen tools: spatula, knives, slotted spoon, and can opener. However, you may be overlooking eight kitchen tools that can enhance your cooking skills and time in the kitchen. As a bonus, all the items below are affordable and can be purchased for under $25.
Silicone tongs
Please save your fingers and use tongs. Tongs are a great tool to grasp, toss, and turn your food. Silicone tongs are even better because they're heat resistant and last forever!
Potato masher
While it's easy to mash a banana with a fork, potatoes are a different story. Potato mashers comes in different forms, but all of them do an excellent job of mashing this vegetable into your desired consistency. If you want the consistency to be extra smooth, a potato ricer will do the job very easily.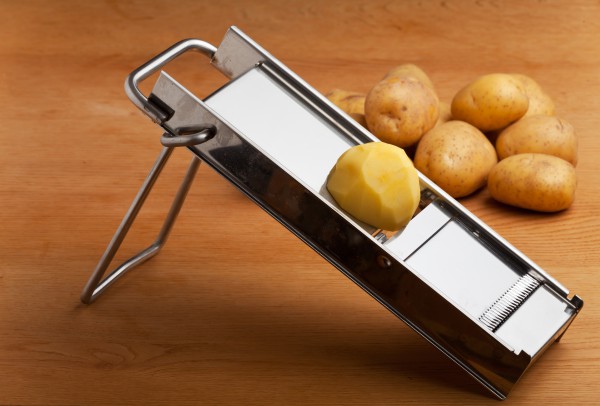 Mandolin
A mandolin can slice faster than you with greater precision. It's important for vegetables to cook at the same rate for even doneness, so instead of going through the tedium of slicing each carrot into matchsticks, use a mandolin. It can also keep textures consistent in salads. With a mandolin you will be able to get desirable paper-thin slices of onions and potatoes!
Lemon/Lime Squeezer
Yes, we can all squeeze a lemon with our hands. A lemon squeezer can do you one better and guarantee there will be no seeds in your fish, lemonade, or pasta. Although it may seem excessive to purchase this item, the amount of time it saves you from trying to pick out the small seeds is more than worth it.

Spiralizer
This is a magical tool that will encourage you to eat more vegetables. In fact, this tool does something you can't do be hand – spiralize. Many spiralizers even have two different width settings. Zucchini noodles are hands down my favorite dish to make with this tool.
Salad spinner
Even though salad spinners do not fit in a drawer and take up a bit of space, this tool will save you money in the long run. Spinners efficiently and effectively take out excess water from your salad greens. This makes your salads taste better and last longer!
Kitchen scale
Baking by weight is more reliable than using measuring cups and spoons. It's also more efficient because you can just add what you need from the container to your mixing bowl.
Ice cream scoop
If you don't have this item, you're missing out on the true way ice cream at home should be enjoyed.