In every glamorous movie the stars have a giant master bedroom with a bathroom that could fit your bedroom inside. Instead of dreaming of a bigger house, make your room awesome with some decorating tricks. There is no need to increase the square footage to increase your creativity. Instead, look around your space and see which one of these great ideas is the one that you need to start with.
Mirrors
The power of a good mirror is excellent. We all need a mirror. The mirror over the sink can only do so much. We need a larger mirror to see if we are really pulling off our outfits. Make it a dual-purpose mirror. They can make a room feel larger than it is. It reflects what it sees, which in this case would be your room. It will make it appear like there is more of it. Now you have a great piece and can see your whole body. Stay away from anything too chunky when it comes to frames. The thinner it is, the more helpful it will be in keeping the room feeling large. Anything that sticks out too far will take up space that is not needed.
Storage 
Make sure every item in your room can hold some type of storage. To limit the amount of furniture, make sure they can all serve more than one purpose. Then you can have less clutter in your room. The less clutter you have, the larger your room will become. A bed has large storage under the bed like a platform bed. Another option is a headboard that allows extra places to stash your belongings. Using baskets and drawers that look clean from the outside will help keep your room looking sharp. Open shelves lead to more clutter and a rougher look.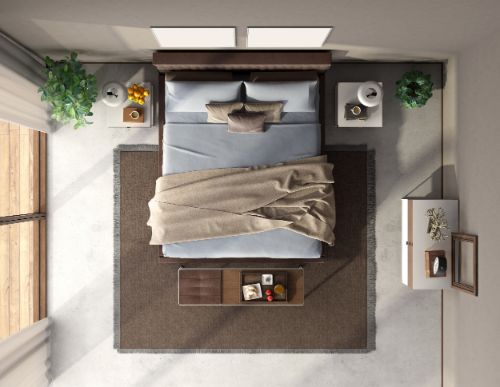 Lights 
Spread out the light. You need an update if you still have a room with one light right in the center. Give some light to the corners of the room. There should not be any dark, secluded spaces in your room. Unless that is something that you will enjoy. Keeping a bright room makes it look like there is more of it. There are a few options to look into. You can do a little construction and install some can lights around your room. If you are not ready for something that permanent, there are other options. Ikea has a lot of creative lighting that can be placed on a bookshelf.
Colors
When it comes to what colors to paint, it can change how a room feels. Not only do we associate feelings with different colors, but it can also change the size the room appears to be. Keep colors more neutral, and then add a pop of your favorite color. This is a better idea that painting the walls bright or dark colors. Either extreme can leave your room feeling smaller.
Get started on the master room of your dreams.