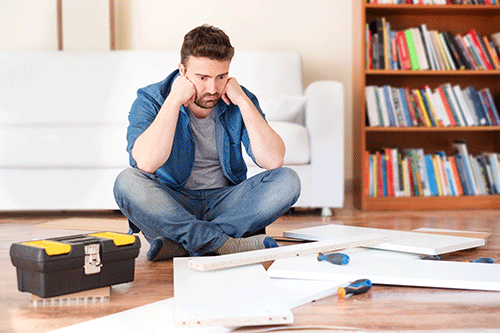 Everyone loves a good trip to Ikea – the displays, the meatballs, the bargains.  There are so many ways to decorate your home using basics from this Swedish wonder if you use your creativity – or look at inspiration from others' creativity.  Everything from designer look dressers to outdoor patio oasis's, you can find it all and save money at the same time.
Custom Dressers and Cabinets
There's no shortage of dressers and cabinets you can find at Ikea.  Don't worry so much about what it looks like now, go for something that has the right shape or bare bones for your creation.  You can customize it with paint, change the knobs for something a little more chic, or use wood glue to add trims and other accents.  Here's an awesome tutorial to help get the creative juices flowing and draw inspiration from.
Source: Champagne Chaos
Stunning Gigantic Mirror
Who wouldn't love a floor to ceiling mirror in their entry way or for their dreamy bedroom?  Save the money from trying to buy your way to this reflective surface and check out this cool Ikea hack to make your own giant mirror on a dime.  You'll receive oh so many compliments and get to boast about how you made it yourself.
Source: The Sorry Girls
Custom Bunk Beds for the Kids
Chances are your kiddos want a fun theme for their bedroom.  Instead of trying to find a bed that fits their taste, purchase this basic bunk bed from Ikea and check out this shop that makes custom stickers and panels specifically for the Ikea bunk bed.  With everything from flowers to space, you can customize this bed and your kids will love it.
Source: Design Stickers Store
Built-in Bookcases
Always dreamed of having a stunning library filled with your favorite books?  If you've looked into custom building a bookcase to fit your space, you'll know it comes with a hefty price tag.  This awe-inspiring tutorial on how to do it yourself on a budget using the Billy bookcase from Ikea will have you grabbing your measuring tape to make your own creation.  This one can be completely customized from colors to trim, this bookcase is your oyster.
Source: 11 Magnolia Lane
Pretty Pegs
Once you've found your basic Ikea needs and want to spruce it up with some customization, look no further than this website.  There are all sorts of legs, pulls and others to make your new piece of furniture anything but basic.  The name says it all – take a browse on this site and be inspirated to make your own creation.
Source: Pretty Pegs
Decorating your space doesn't need to come with a giant price tag if you search out cost-efficient basics and add a little flair.  You'll have made something to be proud of and everyone will ask where you got it from.