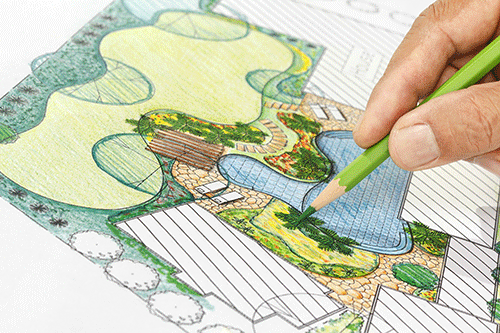 If you're lucky enough to have a backyard pool, you may find yourself struggling to landscape in a way that is both functional and beautiful. Making your backyard the relaxing retreat you've always wanted is easy if you find the right mix of pavement and plant life.
Grass
If you're super into your yard you can always design a way to have more of it by skipping the concrete patio or wooden deck that traditionally surrounds many pools. Mat Job at Pool Pricer suggests considering lawn as your pool deck, saying, "it's safe to say that most people who choose grass-edge pools are attracted by their clean and classy aesthetics." Fake grass is another good alternative that can look outdoorsy and also reduce slipping accidents and crawling things around your cement pond.
Patio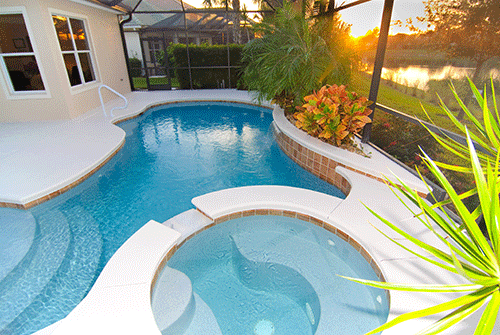 Depending on the size of your yard and the area of your pool, you may be able to nix your lawn altogether in favor of poured concrete or pavers. The Concrete Network explains, "concrete patios allow homeowners to seamlessly blend interior and exterior living spaces. They are the perfect decorative flooring surface for outdoor kitchens and living rooms, complete with cozy seating areas, fireplaces and water features." Outdoor potted plants and topiaries are a warm addition to this type of landscaping.
Rocks
If you want to incorporate lawn, patio, and some functionally designed landscaping, rocks may be your best bet. You can enclose little areas around the patio with edging stones and lay down a layer of weed barrier, then add creek rocks, pea gravel, or whatever stone you'd like to use. Cal Blend Soils has compiled a list of the best landscaping rocks and what each kind does, here, explaining, "With these rocks, you can create a means of directing drainage through your property. It's great if you're in an area where it rains a lot."
Plants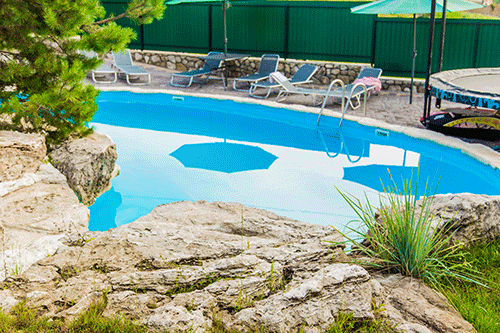 Some foliage can be both beautiful and practical around the pool. Ornamental grasses planted along the borders of your yard can provide privacy. Zebra Grass can grow up to seven feet tall and spread as much as sixty inches. Feather Reed Grass can reach six feet tall when bloomed. Some plants ward away certain bugs you don't want looming around your tranquil backyard hideaway. According to Teo Spengler at Gardening Know How, "Spearmint and peppermint are reputed to work well against insects like mosquitoes, flies, and spiders." Cold hardy palm trees are a great addition to any poolside oasis. They won't dump a bunch of debris into your water, but they will provide just the right amount of shade.
Whether you live in an area where you can use it most of the year or just for a couple of months, having a pool can be a great addition to any backyard, especially once you get the perfect landscaping to suit it, and you.